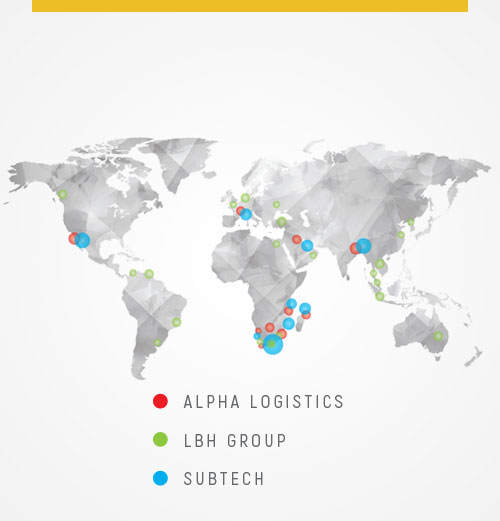 Alpha Logistics, LBH and Subtech are all established, world-renowned marine services companies. This gives the ALS Alliance vast geographical reach and adds value to the Oil Majors and their contractors investing in the Afungi LNG Projects.
International and local affiliations provide credibility and support for the ALS alliance. At the same time, all 3 companies have a superb track record and reputation along with extensive experience on the African continent. They offer the best of both worlds – global affiliation, combined with practical local insight.
Alpha Logistics is based in Kenya, with additional bases in Tanzania, Uganda and Mozambique. Other areas of operation include South Africa, the Comoros, Madagascar, Mauritius and the Seychelles. The Alpha Group also includes Southern Shipping Services Ltd (SSSL) and Southern Engineering Company (SECO).
LBH Group has operational bases throughout in Mozambique (Maputo, Beira, Moma, Nacala, Nampula, Pemba), South Africa (Durban, Richards Bay, Port Elizabeth, Cape Town, Saldanha Bay) and Namibia (Walvis Bay). The LBH Group is a highly respected and experienced international company with offices on every continent.
Subtech is headquartered in Durban, South Africa and has bases in major ports throughout sub-Saharan Africa, including Walvis Bay, Cape Town, Maputo, Beira, Nacala, and Pemba. The Subtech Group is a part of James Fisher and Sons, a leading provider of innovative marine solutions and specialist engineering services worldwide.